Share feedback
Thanks for sharing your feedback!
Squigl offers four different ways to add an audio track to your video.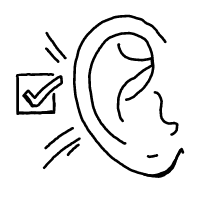 Audio is a key component of any video - whether is it just a soundtrack playing in the background or a voice over - it makes your content more engaging and dynamic.
This step plays an important role in the app, since the length of your audio track determines how much time will be available in your video for glyphs and other customization.
Note:
Squigl only allows for a certain amount of images for a given increment of time.
There are four ways to set up your audio track:
---
Machine Voice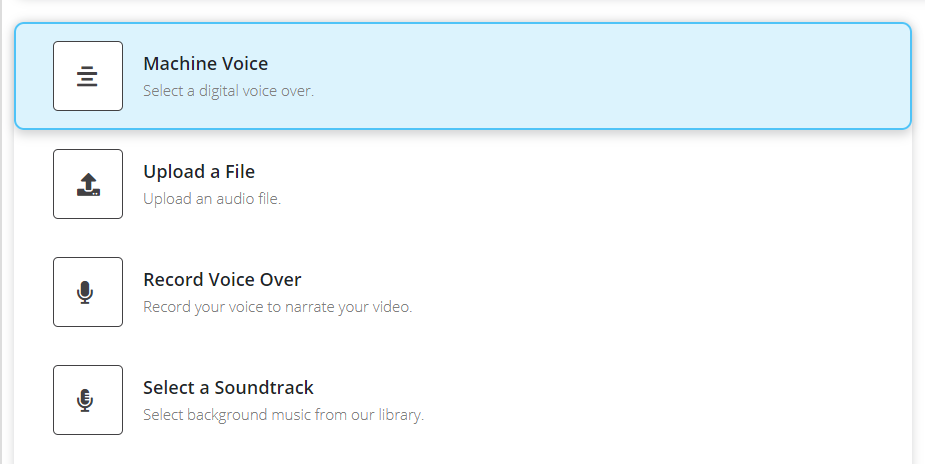 Using A.I., Squigl can narrate your script with our text-to-speech capabilities. At present there are 6 different voices to choose from, ranging in dialect and gender.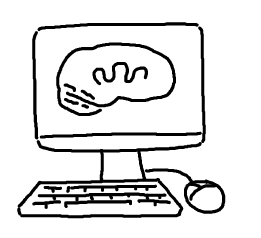 Select Machine Voice
From the voice options which appear on the right, select a name.
Select Play Audio to preview the voice over.
You may edit the selected audio, however some of this functionality is limited with machine voice
If satisfied, select Next or select Go Back to choose a different voice.
---
Upload an Audio File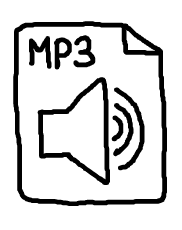 If you have an audio file from another application, upload it here. The following file types are supported: .mp3, .wav, and .m4a.
This is our most recommended option, since an external audio file will sound the richest, depending upon the quality of the audio file.
---
Record Your Own Voice Over
Don't have access to an audio recording application? Use our built in recording software to capture your voice and have the maximum control over cadence and inflection.
Your script appears in the Record Voice Over box on the right.
Select Start Recording. Narrate your script.
When finished, select Stop Recording
A waveform appears based upon your recording. Select Playback Recording to listen to your track.
You can choose to either edit the audio track with our built-in audio editor, clear audio and re-record or continue on to the next step.

---
Use a Soundtrack
A soundtrack is stock music which is used in the background of a video to enhance its overall production. If you would rather not have vocal narration of your script, this may be an option. Few notes: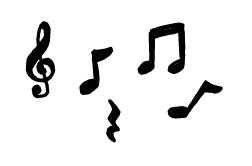 Each soundtrack varies in length
There are 25 tracks to select from
Each soundtrack is free to use and does not include royalties
Pro Tip:
Adding a soundtrack to a video with a voice over is another way to bring your audio track alive! If you want to go this route, you can add this in later on in the video editor.
---
Was this article helpful?
---